Smart Mosquito Traps That Actually Works
In2care Mosquito Station
Easy to use with a User Friendly Design
Energy Saving – No Power Source Required
Durable and Sturdy, Easy to Assemble, Wash and Maintain
A Multi Impact Mosquito Control Trap that uses Mosquitoes to Spread Larvicides
Industries Standard Solution, Proven Effective and Efficient
Scientific Field Data have shown Effective Kill of Aedes Larvae & Mosquitoes
In2care Most Trusted Applicator
The In2Care® Mosquito Trap attracts and exterminate Aedes Females Mosquito using novel green ingredients that targets both Mosquito larva and adults. This is the first Mosquito station to exploit the concept of 'auto dissemination'. Which has resulted in effectively killing Mosquito larvae of baby Mosquito in breeding sites surrounding the Trap.
In2Care® Mosquito Traps can be placed both indoors or outdoors at a recommended density of 1/400 m2 (10 Traps per acre). And to maintain every 4 weeks by using refill sachets. The product lands itself perfectly for use for vector control programs. Particularly in higher risk area and Dengue infected locations.
Ultimately Innovative Pest Control Services is the best Mosquito Control Services in Singapore to get rid of Mosquito problems effectively.
Where to Buy Mosquito Traps and How it work?
The Mosquito Trap is made of durable plastic, uses water with an odour to lure Aedes Mosquitoes to lay their eggs. This approach helps to exterminate the larva lives and Mosquito pupa. Eventually stop Mosquito life cycle, Dengue fever and Yellow fever. Once inside, normally Mosquitoes will contact the specially treated gauze near on the surface of the water.
The species of Mosquitoes will get contaminated by a larvicide and fungus substance. We exploit the fact that Aedes Adult Mosquito likes to divide their eggs over multiple standing water sites. This will allows them fly out of the Trap safely whilst carrying larvicide on their legs to spread around.
Transporting the larvicide to contaminate several breeding sites around the Trap. This way, we can kill the Mosquito larvae in water and small hard to find Mosquito breeding ground. The Mosquito will then get infected with the insect specific fungus that eventually kills them before she can spread disease.
Effective Mosquito Traps That Actually Works
Biogent Mosquitaire
Highest Capture Rates – Scientifically Proven
Specificity – Do not Damage Beneficial Insects like Butterflies, Bees, or Ladybugs
Eco Friendliness – uses No Insecticides
Biogent Mosquitaire Most Trusted Applicator
The BG-Mosquitaire CO2 is an excellent Trap that has been specifically developed to control any kind of Mosquito species. The BG-Mosquitaire CO2 attracts Mosquitoes even the Male Mosquito and captures them using a single fan. Once in the catch bag, the Mosquitoes eventually dies by simply drying out.
It consumes only 5 Watts and when used continuously, the trap result to fewer and fewer Mosquitoes. This will then result to the reduction of the local common Mosquito population and biting nuisance.
The thing that makes human being so attractive for Mosquitoes are heat convection, CO2, human skin scent, light and dark contrasts. Mosquitoes are not drawn to UV light unlike many other insects. Biogent Mosquito Traps imitate these parameters and catches the Mosquitoes before reaching you and suck your blood for a blood meal.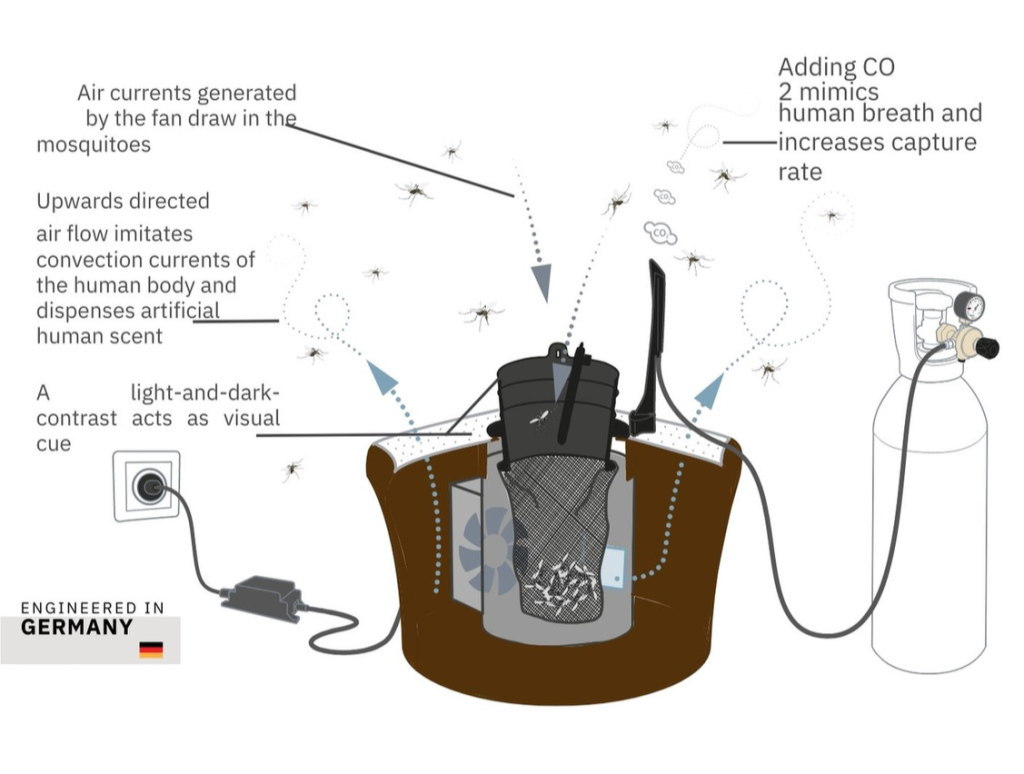 How does it work?
To increase the number of captures for all Mosquito species and to maximise the capture rate including Tiger Mosquitoes. CO2 is released from an emitter nozzle hose, which is especially designed to optimise the distribution.
The release rate of CO2 corresponds to that of a small child. In order to supply the trap with the CO2, a commercially available gas cylinder with 6 or more kilograms. Personally we recommend a 10kg gas cylinder for effective result. It can be easily purchased or rented at beverage distributors or gas bottle depots for an upfront deposit.
LET'S CHAT
Tell us all about your pest!!
keyboard_arrow_leftPrevious
Nextkeyboard_arrow_right
We would love to hear from you!
CONTACT US
We love to talk " Pest". Let us know how we can help you. From getting your F&B Pest Contract to sharing your home with creepy crawlers. Let us know. Nothing is too big or small for us.
Don't hesitate to call us, email us or send us through the contact form.