Defence Against Ants in Singapore – Part 1
July 14, 2023
6 Signs of an Ants Infestation
July 14, 2023
Defence Against Ants in Singapore- Part 2
Defence Against Ants in Singapore
An Ant colony can consist of about hundreds to thousands of Ants. The colony are led by a queen or queens, various species can have two or up to thousands of queens. The queens lay thousands of eggs to maintain the colony population. In some species, male Ants are known as drones, often have only one role, that is to mate with the queen.
Worker Ants are the most visible amongst the colony normally females that will never reproduce. And instead the will forage for food, takes care for the queen's offspring, work on the nest, and protect the colony. Workers are extremely strong to be able to carry 50 times their own body weight.
They communicate by scent of pheromones that can alarm others to danger or lead them to a food source. They usually feed on nectar, seeds, or insects. Some species have diets that are a little bit more unusual. Army Ants, have large mandibles and painful stings, they prey on reptiles, birds, or even smaller mammals.
A Carpenter Ant colony can have approximately 3,000 workers, but this takes several years to develop. In the process, there may be little or no warning signs of their presence in your home. This is because Carpenter Ants live and do not require to eat anything in the pantry or kitchen to survive. They can live comfortably off food sources that exist outside your home.
A workers can travel up to about 1,000 feet or more from their Carpenter Ant nests colony to find food. If you spot one crawling, it may be your one and only sign of a Carpenter Ant infestation. It is important to know how to identify them by a single node in between their thorax to abdomen
Size :
3/8″ to 1/2″

Shape : Eyes tiny, dark-coloured bodies, narrow waists, elbowed (bent)

Colour : Black or Blackish-Red

Legs : 6

Wings : Hind wings that are shorter than front wings (if wings are present)

Antenna : Yes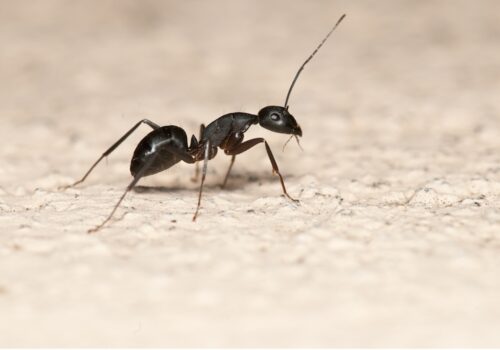 Diet :
They do not eat wood material and feed on of plants like honeydew. And bodily fluids and proteins from both dead or live insects.
Habitat :
They normally nest in the dead damp wood of trees, tree stumps, damage wood logs, and dead branches. They also nest in building material that are rotten by moisture like homes, doors, and cabinets have become their target.
Impact :
When a Carpenter Ant or wood ants colony matures, Ant breed produces winged adult male and female alates. They are called swarmers or flying Ants with wings and appear in big groups on window or inside your home. If you hear a soft scale insects rustling sound within your walls, you could potentially have an infestation.
Prevention :
Stack wooden material away from the house, keep them off the ground as much as possible.

Seal cracks and crevices to avoid all possible entry points.

They like water, ensure to fix leaking pipes on the roof as well.

Cut back tree branches as they grow to touch the premises, it could serve as a entry way.
Solution :
To get rid of the Carpenter Ants, you need to inspection and identify the nest locations and foraging trails. The next step is to determine which control measure to use. Carpenter Ants can be controlled through the application of insecticides and sprays of various kind.
Advisable to call Innovative Pest Control to inspection and identify the type of Ants infestation. A suitable plan will be discussed to get rid of Ants problems permanently.
Ant swarms can turn into rolling clusters of many males trying to mate with one female
Weaver Ants are know for the way they construct their satellite nest. That are made of leaves folded or fastened together to form a tent. The leaves are held together by a silk spun by the lar­vae which the major workers weaves. The nest is built with one of the most unique social cooperative effort of more than twenty satellite colonies.
These slender yellow to orange insects have ex­quisitely adapted to life in the leafy canopies of tropical forests. Their social unit is the colony, that consists of approximately 500,000 female workers, and a single enormous queen. The caste of each colony consists of 3 forms of adult female. The heavy-bodied queen, a massive popula­tion of major workers and a smaller group of minor workers.
Size :
1/8 to 3/8″

Shape : Eyes bigger, head, thorax, body with long legs

Colour : Brown, Red, to Yellow

Legs : 6

Wings : Male no, Female loses it after mating

Antenna : Yes, 10 segment Antennae
Diet :
The feeding preferences varies of food from sugar, sugar-free, honey, dried fish, chicken intestine and biscuits.
Habitat :
Like the Red Ant, Weaver Ants lives exclusively live in trees. The colony can get extremely huge that one tree just is not big enough. The Ant build colonies across several trees.
Impact :
They are incredibly aggressive like the Fire Ants and Red imported Fire Ant that do not end with other insects only. They can and will attack humans and the Ant bite can to be quite painful.
Prevention :
Seal window, doors, cracks and crevices to avoid all possible entry points.

Caulk around the cracks within wall voids, doors and windows.

Seal utility openings like wire casings and pvc pipes.

Be sure to clean thoroughly spills after meals to avoid attracting the Crazy Worker Ants.
Solution :
Chemical spray can help to remove Ant larvae nests. There are many ways to rectify an infestation. We will plan a suitable program to solve the problems permanently.
A few Malaysian Carpenter Ant species makes ultimate sacrifice to defend against their attackers
This species of Ant will usually be nest in the roof or walls around house. They can easily access to both inside and out to forage for food and water source. Once inside they will normally contaminate sugary foods and find their way into jugs and sinks to look for water. The 'Frass' or dropping they eject from their colony is usually a worrying factor for homeowners.
Size :
1/2 to 5/8″

Shape : Oval thorax, two-segmented pedicel

Colour : Glossy Black

Legs : 6

Wings : Yes

Antenna : Yes, 12 segment Antennae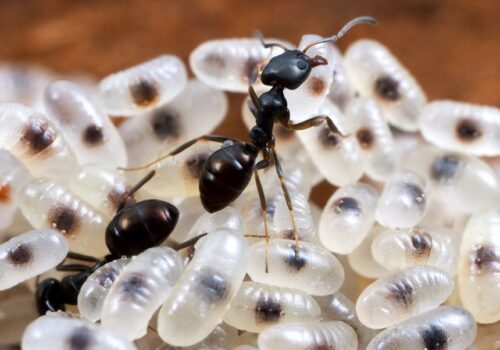 Diet :
They are omnivorous and feeds on alive or dead insects and worms, as well as vegetation such as small seeds.
Habitat :
They always built nests underground, under rocks, in cracks and holes of foundation, or even in rotten dead wood. They are also attracted to sweet foods and known to aphids and bugs on potted plants.
Impact :
The Black House Ant queen lives for about 15 years, on an normal average. There have been records that shows that they made it till the age 30. This means the infestation is here to stay if not precautionary measure is taken.
Prevention :
Make a habit to regularly check under the dish washing sinks, and toilets for any leaky or drips pipes.

Caulk around the cracks within wall voids, doors and windows cracks and crevices to avoid all possible entry points.

Outdoors you can turn over any rocks, bricks or debris on the ground.

To pay attention to the area around walls and walking paths by pulling back the grass outdoors.
Solution :
This species of insect can be as dangerous as the damage caused by termites. If you are not sure what to do, you can always choose for Ants Control Specialist. For an inspection to rid of the problems permanently.
They can be found on every continent except Antarctica